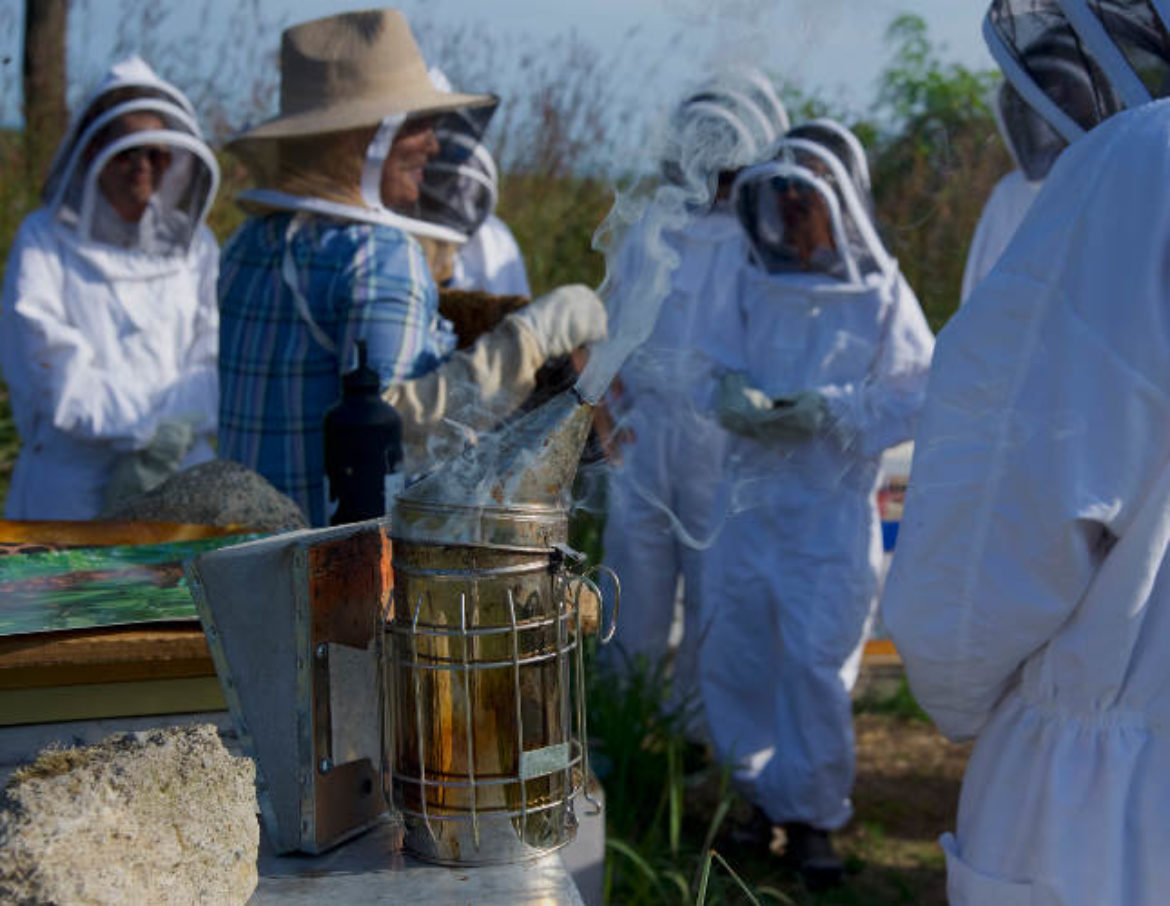 Our Apiary bees and beekeeping school programs located in southern Ontario.
Vanessa's Bees is open June til the end of September from 10am-4:30pm.
This beekeeping school is located at Whistling Gardens in Wilsonville, Ontario and at Long Point Eco Adventures near St Williams, Ontario.
There are three beekeeping experiences offered:
---
LEARN ABOUT THE BEES SCHOOL TOUR
This program will have students learning all about honey bees and other pollinators through lessons, exploring, and activities. Students will get to see a real bee colony from an observation hive and learn what it's like to be a beekeeper. Classes have the opportunity to adopt a hive. This includes painting the hive, naming the queen, and updates on your colony! Book Now  (Cost $25 per student plus tax)
---
BE A BEEKEEPER TOUR AT WHISTLING GARDENS
Come meet the honey bees of Whistling Gardens! 1 hour garden apiary tour plus admission to explore 20 acres of national award winning botanical gardens for the day. After immersing yourself into the incredible world of beekeeping, bring your own picnic lunch to enjoy among streams, ponds, musical fountains, and thousands of beautiful flowers and plants
.
Beekeeper Tour Link ($20 children and $30 adults plus tax)
---
APIARY AND ART TOUR AT LONG POINT ECO-ADVENTURES
Adventure into the Eco Bees apiary! Enjoy a 2.5 hour tour and workshop at Long Point Eco-Adventures where eco-friendly adventures and vacations are at the heart of what they do. Explore the inner workings of the hive, then enjoy a workshop where you will make your own beeswax candle souvenir.
It started with a curiosity for beekeeping, and then the discovery of how bees and other pollinators are at the heart of biodiversity, ecosystem health, and our own food production. Since first stepping foot in an apiary, Vanessa has been astonished by the intricacies and behaviours of honey bee colonies, as well as, their ability to create an incredibly zen working environment that leaves you feeling like you're the happiest person in the world.
After mentoring from other beekeepers, courses, and countless books, blogs, and video archives, Vanessa found opportunity and a true sense of community in Norfolk County where she first arrived to study at college. Seeking a job worth living for and entrepreneurial creativity, Vanessa's Bees was born.
It is now her goal to work along side honey bees and benefit all pollinators where she can, by sharing with the public the importance of these tiny creatures and all that they do for us. Vanessa, alongside Landscape Designer Cam Beck, have a dream to create native pollinator gardens in communities around Ontario and a portion of Vanessa's Bees profits will go towards making this come true.
Together, we can all do our part to help save honey bees and other pollinators, after all, we all share this home called Earth. By helping each other to thrive, we can live in harmony for generations to come. Here are a few easy ways that you can help:
Support local beekeepers who take care of honey bees by buying their products.

Plant flowers that provide food for pollinators. Some of my favorites include:

Purple Cone Flower

New England Aster

Blazing Star

Avoid using pesticides and other chemicals on your lawn and garden.

Avoid spraying or weeding Dandelions, they are a great early food source for pollinators!

Create habitat for pollinators. Build a wild bee house, leave your garden clippings at the end of the season, leave un-mulched areas for ground nesting insects, and leave areas of your property to grow wild with native grasses and flowers.

Avoid buying seeds and plants treated with neonicotinoids. Ask someone at your local greenhouse if you are not sure.

Ask the government to ban honey bee killing pesticides.

Participate in Citizen Science and report your pollinator sightings online so researchers can better detect the range of various species

Don't harm the bees. If you find a swarm, don't spray! Call a local beekeeper to come safely relocate them.

Educate others!
Thanks for your help saving the bees!