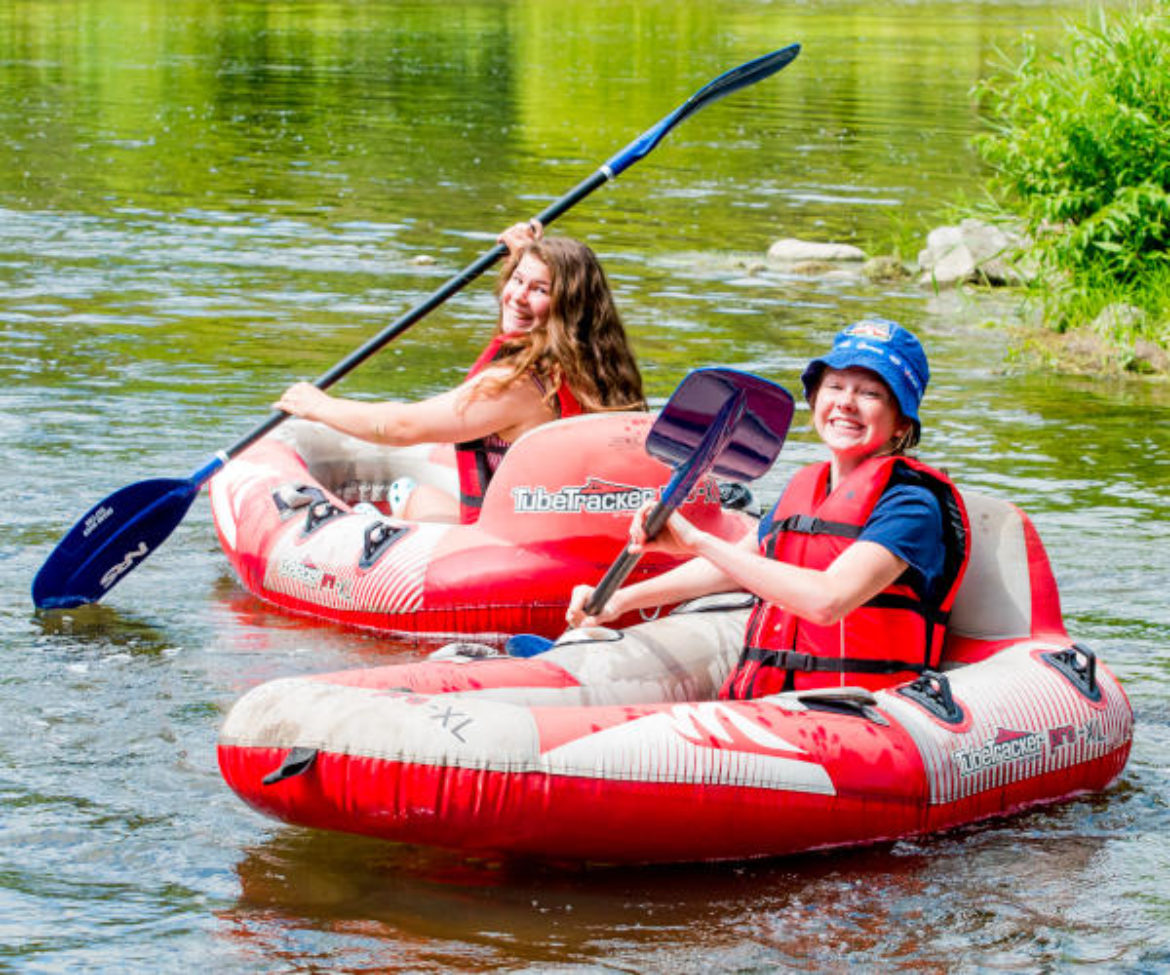 Turbo-Tube, Kayak, Canoe or Privat Boat Shuttle the Canadian Amazon.
The Canadian Amazon (Big Creek) offers five choices for the 2023 season.
Our prices are all inclusive…  includes boat, PFDs, paddles, safety kits, shuttle ride and parking.
Another Tourism Business Locally Owned and Operated by a Norfolk County Resident.
Whether you're Kayaking, Canoeing or Turbo-Tubing, Big Creek offers some of the best eagle sightings as you paddle through a forest.
This meandering river is different from any other river in Ontario.
Big Creek is narrow and deep, with trees overhanging… and truly fits the description "The Canadian Amazon".
This is a mild current river where you will be paddling a 9km adventure.
Big Creek Tubing is located near Lake Erie by Long Point…  about a 2-2.5 hour drive from Toronto.
We are certified By Ontario Tourism Safe Traveler Stamp… visit our COVID Health Protocols.
Beginner to experienced. Most people average 4.0 to 5.0 hours when tubing this route because of the slow current. If in a canoe, kayak or paddleboard… it takes about 3 hours.
Suggested Ages: 6 years and up. With children, adults can tether the child's tube to theirs when the child gets tired.
Suggested Weight: If over 270 lbs… call us to see what boat is best.
How It Works: We have you park at the end point… then shuttle you 9 km upstream to the start… you them paddle downstream… with a short 3 km ride back to your vehicle.
Parking & Meetup Area: At the corner of Lakeshore Rd and Hwy 59…  on the left right after you cross over Lakeshore Road. DO NOT drive into Long Point…you have gone too far.
Please drive to 157 Front Rd, Port Rowan, N0E 1W0 (must use google, other apps go to wrong location)  There is a big sign on the side of the road saying "Grand River Rafting Parking… park at the rear of the building.
This location also has takeout-food and gas.
OPENS JUNE 10,2023
You Must Reserve in Advance.
Now offering private boat shuttles at 8:45am and 1pm… learn more!
SPRING 2023
June 10-30… open Friday, Saturday, Sunday & Monday
All boats available for 10am, 10:30am, 11am, 11:30am and 12pm
SUMMER 2023
July 1-Sept 4… Open all Thursday, Friday, Saturday, Sunday & Monday.
Tubing Start Times… 10am, 10:30am, 11am, 11:30am, 12pm
Canoe, Kayaks, Tandem Kayak Start Times… 11am, 11:30am, 12pm
FALL 2023
Sept 9 & 10… open Saturday & Sunday (then closed for the season)
Shuttle times: 10am, 10:30am, 11am, 11:30am and 12pm
Trip is about 9kms with slow current, but deep
Approximately 4-5 hour trip tubing
Approximately 2-3 hour trip in kayak, canoe or SUP
Please Check Our Weather Alert On the Day of Your Trip Before Coming.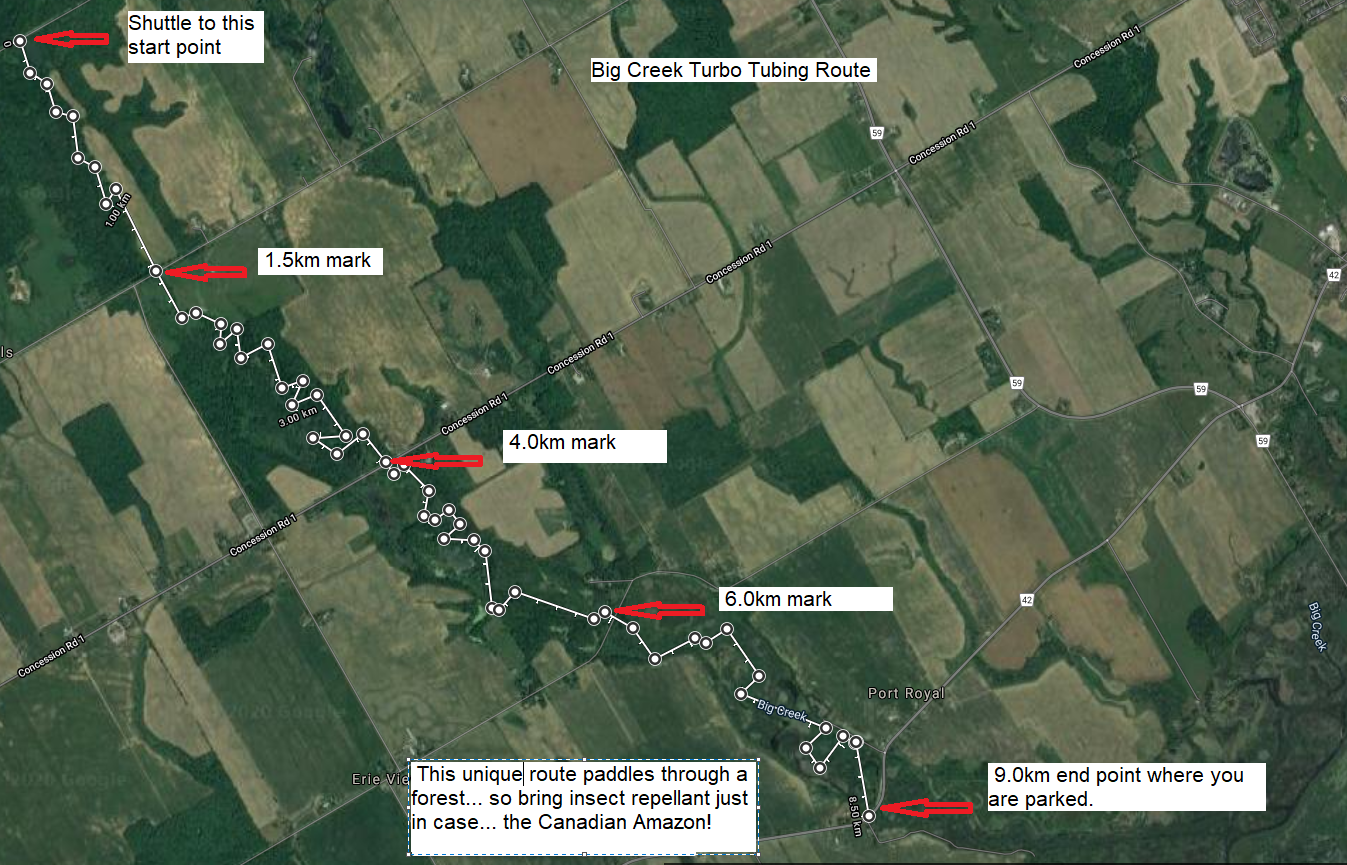 What to Bring:
Good sunscreen, hat, sun glasses, retainer string for eye glasses, insect repellant, water & snacks, gloves if hands blister easily, lip balm and ziplocks for your cell phone.
Bring footwear you don't mind getting wet.
If you burn easy… long sleeves and pants… otherwise swim suits or clothes that dry quickly. Denim jeans are not a good idea… they stay wet forever!
How Your Trip Works:
You can book online or email… info@grandriverrafting.ca or contact us directly by phone 519-442-2519 or.  Even though we have up to 3 people answering the phones, our lines are extremely busy… email is always best! Make sure to ask for BIG CREEK.
Once booked… we will send you a confirmation with what to bring and to drive to 157 Front Rd, Port Rowan, N0E 1W0 (

must use google, other apps go to wrong location

).
Upon arrival, meet your driver, get equipped and do an orientation talk about your trip.
Once everyone is ready… we shuttle you upstream… you get your boat… then paddle down the river to the exit point.
Then a short 3km shuttle back to your vehicle.
Weather & Cancellation Policies:
Final price is based on headcount given 48 hours out from date of event.
If cancellation is given 48 hours in advance, there is a full refund.
If cancelled under 48 hours, there is a 75% refund.
If cancelled on the day of your trip… there is no refund.
If bad weather… please check our 7am daily weather update to see if you are "good to go" before leaving your house.
Your group has 3 choices if bad weather:
Move start time around

Choose another date

Get a full refund