Five Oaks 2 Hour Trip, Recommended For Beginners
Prices include boat, PFD, paddle, safety kit, orientation map talk, shuttle ride and parking.
May 22 til June 30, 2022… this route is open on Sunday, Tuesday and Thursday. Sunday start times 9am until 2:30pm. Tuesday and Thursday start times are 9am until 1:00pm.
July 1 til Sept 5, 2022… this route is open 7 days a week with start times from 9:00am until 2:30pm.
Sept 6 til Sept 18, 2022… this route is open on Sunday, Tuesday, Thursday and Saturday. Sunday & Saturday start times 9am until 2:30pm. Tuesday and Thursday start times are 9am until 1:00pm.
For the Five Oaks to Brant Trip, please drive to 119 Jennings Rd, Brantford… drive into the Brant Park Conservation area… stop at the gatehouse window, show your reservation to be let in free.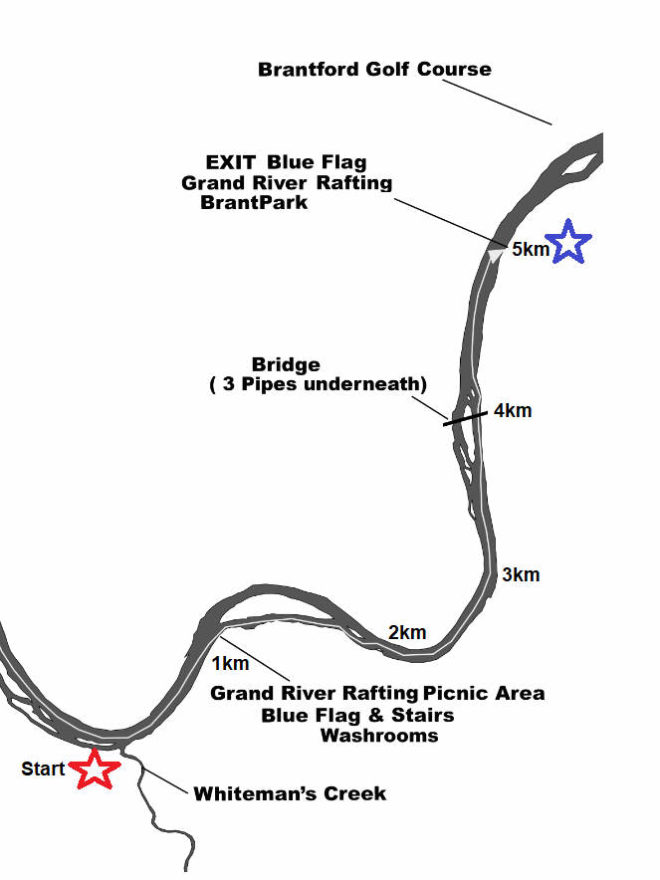 Five Oaks to Brant Park is our shortest Grand River tubing trip.
This route is in a wilderness setting… so no stores or shops! There are lots of bird sightings from Bald Eagles to Blue Herons. There are turtles, wildlife and fish… but nothing dangerous to people. Best of all, there are no mosquitos.
This is an excellent route for beginners to safely experience a river paddle, because it is shallow in most spots, allowing non-swimmers to stand up!
It is a 5 km river trip. You paddle one way with the current helping you. Most people take 1 hour to 2.5 hours depending on the type of boat, how much you paddle and whether you stop to swim.
If tubing, most people take 2 hours. Tubes are designed so that parents can tow their children.
If in a canoe, kayak, raft or SUP… people average 1 to 1.5 hours at a leisurely pace. When the river is flowing fast after heavy rain, you don't have to paddle at all!
We normally suggest 4 years of age and up. For weight, if over 270lbs, please call or email our office to see what boat is best.
We are certified By Ontario Tourism Safe Traveler Stamp… visit our COVID Health Protocols.
With us, no waiting for a return pickup after your trip!
Simply park at Brant Conservation Area, get outfitted and we shuttle you upstream to the start point… then you paddle back to your vehicle… so you are good to go when done.
There are washrooms at the parking area and start point… plus we have a picnic area 1 km downstream. At the riverside picnic area there is shade, tables, garbage containers and more washrooms.
There are 4 easy little swifts to paddle through, but most of the water is easy and flat, with little current.
Along the way there are spots to stop and swim. Finding swimming spots is easy… peer over the side of your boat… put your paddle down and see how deep it is! The river averages 1-2 meters in depth.
The Grand river has a stone-gravel bottom… so having shoes to protect your feet from the rocks, is a very good idea.
We do offer two longer Grand River trips… the Glen Morris to Paris route (11.5 kms) and the Paris to Brant Park route. Link
Further away, near Long Point on Lake Erie… we offer a very unique Canadian Amazon paddling  trip for 9.0 kms through an overhead forest canopy. Big Creek Paddling Link
Please remember that no alcoholic beverages are allowed on the river… it is Federal Law and can result in OPP charges.
Grand River Rafting reserves the rights to inspect all bags and coolers being brought on trips. If alcoholic beverages are found, you will be asked to kindly return the beverages to your vehicle. If someone refuses inspection or refuses to leave alcoholic beverages behind, they will not be allowed to go on the river… and there will be no refund.
Check Our Weather Alert Before Coming!
The weather apps can be so generic that they are almost useless… especially forecasts that are more then 48 hours out.
It is important to remember, that the weather on the Grand River… can be totally different from where you are living.
We are good at weather… because we want you to enjoy your trip… not endure it!
So before driving to the Grand River Valley… please check our updated Grand River Weather Alert link on the day of your trip.
Please check our "
Grand River Weather Alert Page
" before leaving home… to see if your trip is a go.
If our weather webpage states poor weather on the Grand River, your group has 3 choices:
You can come at your assigned time or email us to request moving your time around.
Or you can email us and request another date.
Or you can email us and request a full refund
Please ignore the weather station forecasts for 3 or more days out. Their forecasting is total guesswork… and extremely inaccurate… never base your planning on these long range forecasts.
The most accurate forecasting is more like 12 hours or less.
What to Bring:
Good sunscreen, hat, sun glasses, retainer string for eye glasses, water & snacks, gloves if hands blister easily, lip balm.
Bring footwear you don't mind getting wet… the river bottom is rocky.
If you burn easy… long sleeves and pants… otherwise swim suits or clothes that dry quickly. Denim jeans are not a good idea… they stay wet forever!
If cooler weather… dress in layers so you can strip down as you get hot.
Due to health protocols we are not supplying dry bags… so please bring ziplock bags or bags capable of keeping car keys, cell phones and personals dry
How Your Trip Works:
You can book online or if needing help… call our office at 519-442-2519. If calling, please be patient, because even with 3 people on phones… we are busy. Email is always best!
Once booked… we will send you a confirmation with what to bring and where to meet. For the Five Oaks to Brant Park Trip, please drive to 119 Jennings Rd, Brantford. (Brant Park)
Upon arrival, park your vehicle, register at our desk, get equipped and do an orientation map-talk about your trip. There are portable washrooms & change rooms here too.
Once everyone is ready… we shuttle you upstream… you get your boat… then paddle down the river to the exit point where your vehicle is parked.
Basically we look after everything… you just bring your lunch, personals and yourselves!
Cancellation Policies:
Final price is based on headcount given 48 hours out from date of event.
If cancellation is given 48 hours in advance, there is a full deposit refund.
If cancellation is given the day before, there is a 75% refund.
If cancellation is on the day of the trip, there is no refund.
Other Notes:
We have water refill station for bring-your-own-water bottle
With COVID health protocol, we are not supplying dry bags… so please bring your own.
Please view our Paddlers Discount with Wincey Market Dollars in Paris