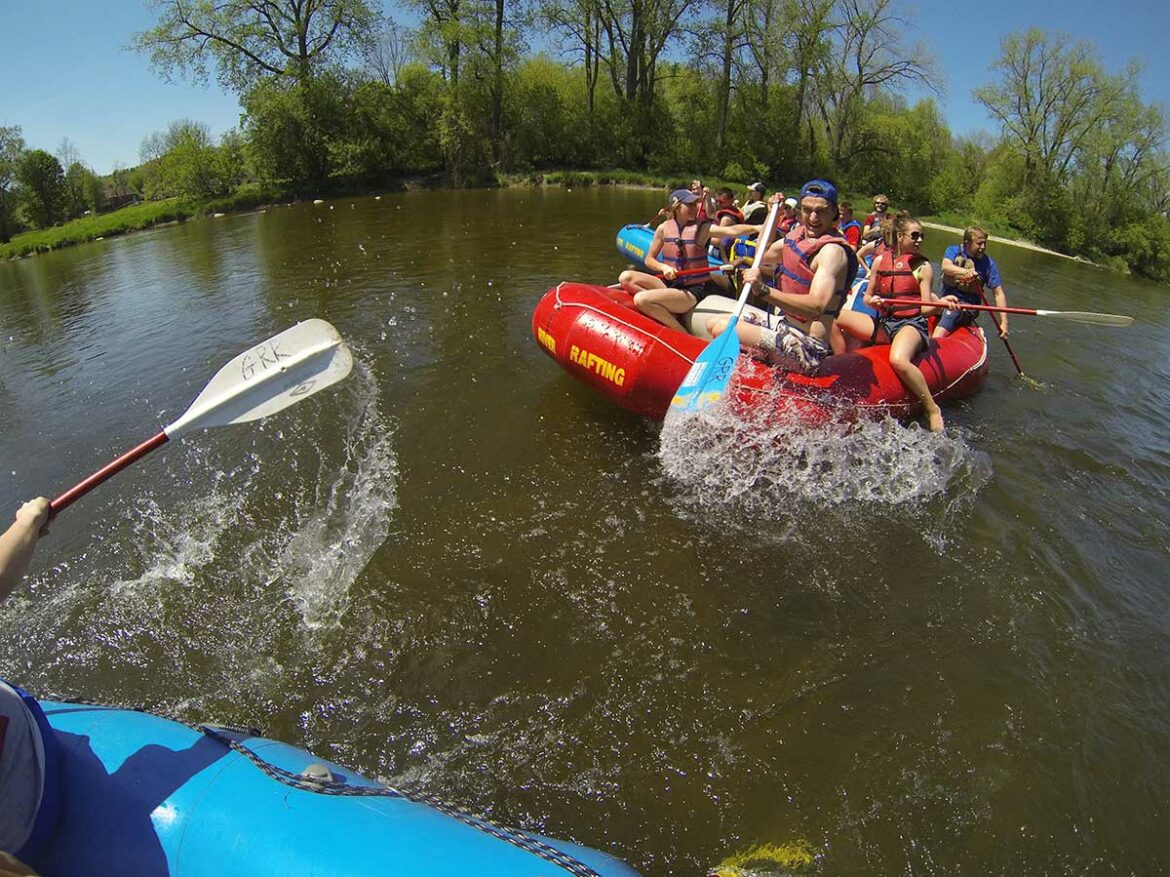 Schools Can Explore the Grand River in 4 Types of Boats
Prices include boat, PFD jacket, paddle, safety kit and safety orientation map talk.
The shallowness and the slowness of the Grand River offers a safe experience for school trips.
The river often warms up to 20C by mid-May because of the 1 meter depth.
Students get a chance to paddle some easy currents, calm pools and even a bit of splash!
Paddling through this forest setting offers the opportunity to see birds, fish, reptiles and animals… but there is nothing dangerous.
There is a picnic area along the way, fresh water springs to drink from and an old mine from the year 1830.
Paris to Brant Park… 13 km (4-5 hrs)
Paris to Five Oaks… 8 kms (3 hrs)
Five Oaks to Brant Park… 5 kms (1.5-2 hrs)
To reserve please contact us directly by phone 519-442-2519 or email.
School trips can choose their start times.
We will send you a confirmation with what to bring and where to meet
Upon arrival there will be a washroom break, followed by dividing into groups, getting equipped and a safety orientation talk.
Once everyone is ready… we launch and paddle down the river to the exit point.
Check Our Weather Alert Before Coming
The weather apps can be so generic that they are almost useless… especially forecasts that are more then 48 hours out.
It is important to remember, that the weather on the Grand River… can be totally different from where you are living.
We are good at weather… because we want you to enjoy your trip… not endure it!
So before driving to the Grand River Valley… please check our updated Grand River Weather Alert link on the day of your trip.
boat, paddle, life jacket, safety kit
staff to properly fit students with jackets
safety orientation talk
guides and life guards as needed to OPHEA standards
Weather and Cancellation Policies
Final price is based on headcount given 48 hours out from date of event.
If cancellation is given 48 hours in advance, there is a full deposit refund.
If cancellation is given the day before, there is a 75% refund.
If cancellation is on the day of the trip, there is no refund.
If our "Grand River Weather Alert Page" states poor weather, your group has 3 choices:
You can come at your assigned time or email us to request moving your time around.
Or you can email us and request another date.
Or you can email us and request a full refund.
Please ignore the weather station forecasts for 3 or more days out. Their forecasting is total guesswork… and extremely inaccurate… never base your planning on these long range forecasts.
The most accurate forecasting is 12 hours or less.