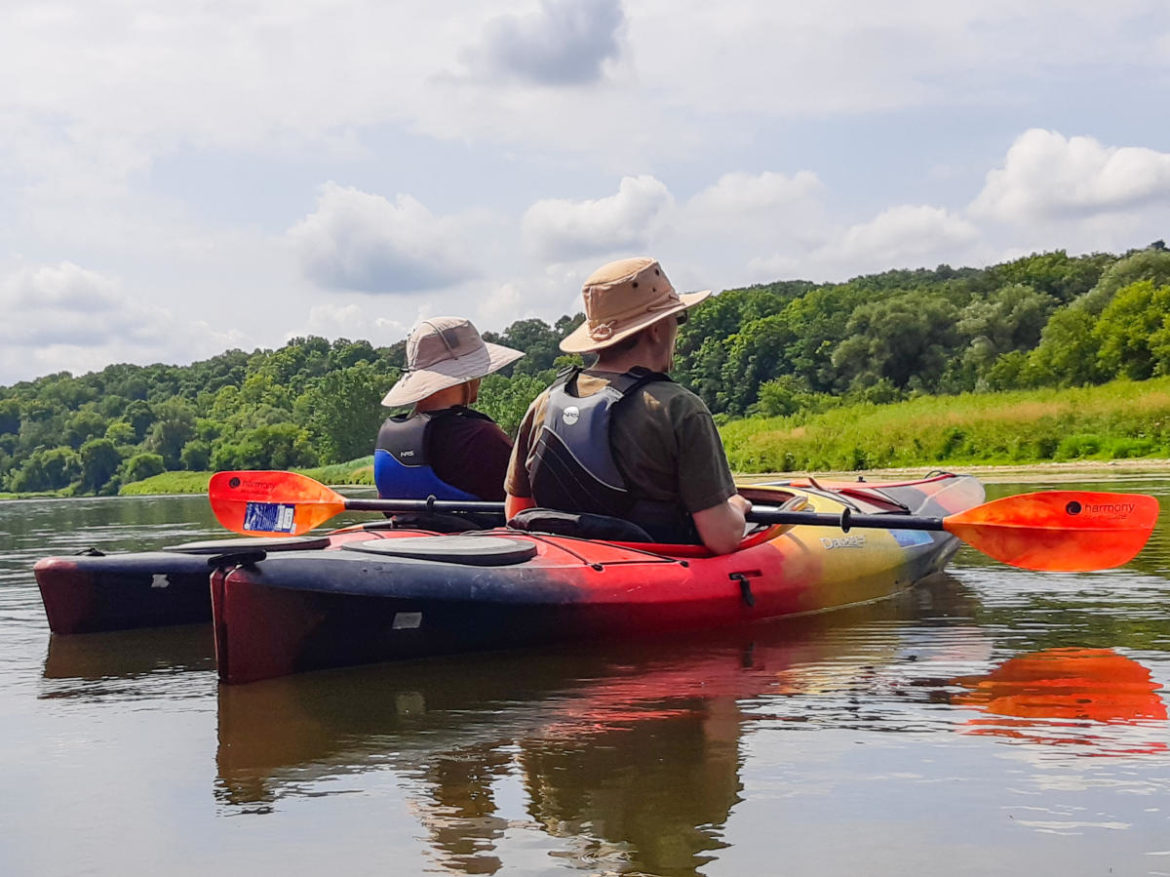 Kayaking the Grand River is like becoming a swan on the water… so easy to learn in comparison to a canoe… and far more stable then a canoe.
Everyone thinks you need to be able to do a "kayak roll" in order to paddle these boats. Truth be told…  because the Grand River is so shallow, if you did a kayak roll… you would knock your "block " off!
We do have about a 1 hour kayak lessons available before the trip… $30 per person.
Number of People per Boat: These are our single boat rentals we do have 2 person kayaks for rental
Suggested Paddling Skills for this Boat: Beginner-Novice-Experienced
Suggested Ages: Suitable for younger children in our 2 person boats. We do have a limited number of child kayaks for rent.
Suggested Weight: up to 300 lbs
This Boat Can Be Used On These Trips: The beginner Paris to Brant Park Paddle 3hrs. The intermediate Glen Morris to Paris Paddle 3 hrs. The intermediate Cambridge Paddle 5hrs.
NO ALCOHOL ALLOWED… Please remember that no alcoholic beverages are allowed on the river… it is Federal Law and can result in OPP charges.
Grand River Rafting reserves the rights to inspect all bags and coolers being brought on trips. If alcoholic beverages are found, you will be asked to kindly return the beverages to your vehicle. If someone refuses inspection or refuses to leave alcoholic beverages behind, they will not be allowed to go on the river… and there will be no refund.
Price of Boat and Persons (HST tax not included):
Glen Morris to Paris 11.5 km: $59
Paris to Brant Park 13 km: $59
Cambridge to Paris 17.5 km: $69
boat, paddle, life-jacket, safety kit
river map & orientation talk
shuttle ride to start point
free entry to the park
free parking & picnic area
water refill for bring your own bottle
Paddlers Discount with Wincey Market Dollars in Paris
You can take a one hour lessons before your kayak trip for $30 per person,

available only on the Paris to Brant Park trip. Please contact our office to arrange lessons by phone 

519-442-2519 or email.
Campsites available at end point, if paddling the Cambridge or Glen Morris trips.
Please note… HST is not included in prices.
We have different meet up places for each trip… so please read your confirmation for which location to drive to!
Grand River Rafting is certified with the Safe Travel Stamp and here are our

Covid Health Protocols

for keeping customers safe.
Please Check Our Weather Alert On the Day of Your Trip Before Coming.
Paris to Brant Park Trip. With all our trips, you park where your trip ends… and we shuttle you upstream. This trip shuttles you into the picturesque town of Paris. The Paris to Brant Park trip is considered our most gentle paddle. There is a section of fast moving water at the start, followed by more placid waters. It has a picnic site with washrooms along the way, fresh water springs, an old 1830's mine shaft and spots to swim. Great route for non-swimmers to try!
Glen Morris to Paris Area Trip.  This Grand River route starts above Glen Morris at the ruins of an 1867 woolen mill and ends below the stone towers of the Three Sisters (about 3 km above Paris). It has about 1 km of easy splash to paddle, fresh water springs, an island to stop at and spots to swim,. The picnic area is at the end point where your vehicle is parked. Because the Grand River averages less then a meter deep in most spots… enjoyable for non-swimmers.
The Cambridge to Paris trip.  This is our longest route, most people take between 4-5 hours, depending on how much you paddle and river flow rates. The trip starts at the south end of Cambridge, ending below the stone towers called the Three Sisters (about 3 km above Paris). Along the way are experience a series of easy splash sections, fresh water springs, spots to swim and a washroom stop at the Glen Morris Village launch. Because of the length… we don't suggest this route for Beginners.
What to Bring:
Good sunscreen, hat, sun glasses, retainer string for eye glasses, water & snacks, gloves if hands blister easily, lip balm.
Bring footwear you don't mind getting wet, because the river bottom is rocky.
If you burn easy, please wear long sleeves and pants, otherwise swim suits or clothes that dry quickly. Denim jeans are not a good idea, because they stay wet forever!
If cooler weather dress in layers so you can strip down as you get hot.
How Your Trip Works:
You can book online…  or contact us directly by phone 519-442-2519 or email.
. We host over 50,000 people yearly… so our phones are busy even with 3 people answering!  So, if choosing to call, please be patient.
Once booked, we will send you a confirmation with what to bring and where to meet. Please read your confirmation to see where to drive to,  because we have 4 locations.
Upon arrival, there are portable washrooms & change rooms. When you come to the desk to register… remember to bring: your car keys, sunscreen, water, snacks and double ziplock bags for cell phones
Once registered, get equipped with paddle & jacket, do an orientation talk and take a photo of your route map.
Once everyone is ready, we shuttle you upstream, you get your boat, then paddle down the river to the exit point, where your vehicle is parked.
Cancellation Policies:
Final price is based on headcount given 48 hours out from date of event.
If cancellation is given 48 hours in advance, there is a full deposit refund.
If you cancel under 48 hours, there is a 75% refund.
If you cancel on the day of… there is no refund.
Weather Cancellation Policy
Before leaving your home to come here… please check our Weather Alert Update to make sure you are good to go.
If our weather alert states… "Possible Inclement Weather" or "Unsafe Weather"
Your group has 3 choices:
Move start time around
Choose another date
Get a full refund